Sponsorship, Exhibiting & Advertising
<< Back to main conference page
The mission of the Georgia School Counselor Association is to represent, promote and enhance professional school counseling in Georgia to create improved outcomes for all students. What better way to bring these counselors together in one place to learn and network than at the annual GSCA Conference.
GSCA Sponsors are invaluable part of our success. Through support and funding, our sponsors allow us the opportunity to enhance our attendee's experience. We appreciate our sponsors support to our association. To learn more about the different opportunities to get your name out to our members.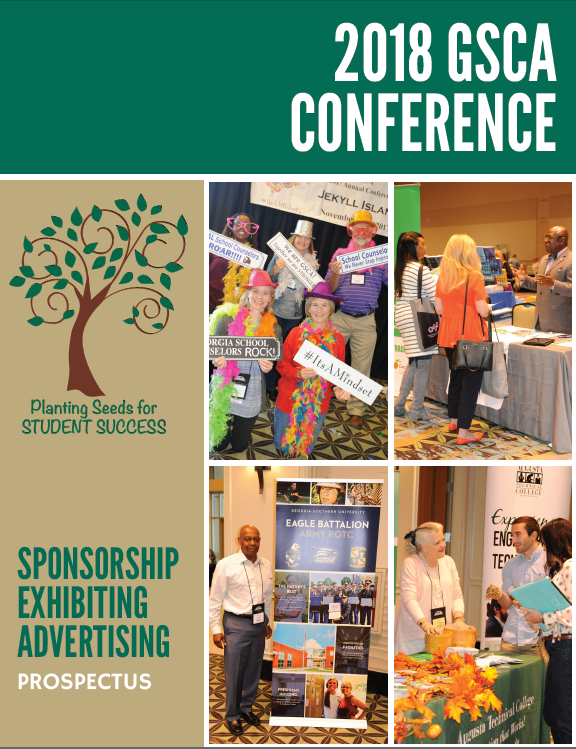 SPONSORSHIP
GSCA offers five levels of sponsorship opportunity. Our packages offer something for everyone who is wants to support GSCA. From the Friend level up to our Exclusive Titanium level, we will provide you with the necessary tools to get your name in front of our members.
EXHIBITING
Exhibiting at the GSCA Conference will connect you with a community who is interested in and actively contributing to making a difference in school counseling services.
ADVERTISING
Advertising in the Conference program book provides an outstanding opportunity to reach your target audience. Circulation for the Conference program book is given to all attendees, with total circulation estimated at close to 800 attendees. Advertising in the conference program book is an excellent way to drive traffic to your exhibit space and potential customers to your business. The deadline for camera ready artwork is Tuesday, September 4, 2018
.
As of October 12, all exhibitor tables are sold.
For advertising and sponsorship opportunities, please contact us.
GSCA appreciates your participation & support!



PROSPECTUS EXHIBITION HALL LAYOUT QUESTIONS? ELLEN SHEA, CONFERENCE MANAGER