GSCA 2020 - 2021 President Jennifer Jones Shares Vision and Leadership for the Year Ahead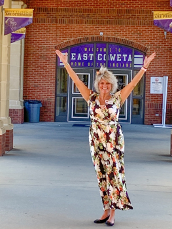 (ATLANTA, GEORGIA, October 2020) Jennifer Jones, a school counselor at East Coweta High School in Sharpsburg, Georgia started in her role as president of the Georgia School Counselor Association (GSCA) on July 1, 2020. The leadership team for GSCA met virtually on July 23, 2020 and collaborated on strategic priorities for their not-so-standard year ahead.
"Customarily our executive board of directors and leadership team meet face to face at the start of our year; but due to the pandemic, the responsible method was to go virtual," said Jones. Within a couple of weeks of this meeting, the executive board additionally voted to cancel their four-day event, typically held in November each year, and shift focus to development of a virtual conference to coincide with National School Counselors Week in February 2021.
"Eliminating in-person events this year was not an easy decision; but it was the right one," Jones continued, "By making the decision early, this allows our passionate team of leaders to develop new and creative ways to connect with GSCA members."
Jones, who earned her B.S. in Therapeutic Recreation and M.Ed. in Education from Georgia Southern University, and her Ed. S. in Guidance and Counseling from the University of West Georgia, began her career in 1997 as a special education teacher at Evans Middle School in Coweta County. After two years in that position, and a year of teaching eighth grade literature, she served six years as the school's counselor. She has worked as a counselor in elementary, middle and high schools throughout her career, including schools in Pike County, Marion County, Heard County, Meriwether County, and Upson County. Jones has been in her current counselor position at East Coweta High School since 2017. She has been an ASCA member for 12 years, and a GSCA member for 15 years, for which the last eight years she has chaired several of the GSCA leadership team committees before being named president-elect in GSCA's 2019 – 2020 fiscal year.  
"My vision for GSCA is to continue to advocate for our profession, increase membership in our association, and help all students reach their full potential," Jones stated during her campaign for the president-elect position last year. "I am a huge advocate for our students and for us as counseling professionals. I believe that my continuous involvement in GSCA and interaction with colleagues has provided me with a great foundation, which has prepared me to be an effective leader."
Under Jones' guidance and vision, the GSCA leadership team designed their strategic priorities to include: webinar development that addresses counselors' current needs; assurance that diversity, equity and inclusion is being considered and met within all aspects of GSCA; and development of platforms for educating school leaders on the importance of counselors, and resources to help support counselors in rural areas. 
 "In a year of a pandemic and dealing with virtual schooling and virtual conferences, I confess that initially my mindset was that we would 'make the most of it,'" said Jones.  "However, as I reflect on everything ahead for GSCA, with so many new and exciting things to look forward to, I now believe I am thinking more of 'seizing the opportunity' and looking ahead to how this can be one of the best years ever for GSCA!"
###
About the Georgia School Counselors Association (GSCA): The Georgia School Counselor Association (GSCA) is a private, non-profit association comprised of school counselors, counseling directors, supervisors, administrators, counselor educators, and other individuals involved in related activities who have an impact on a student's success and well-being at school, work and home. Founded in 1949, GSCA has grown to a membership of more than 1,000 members. GSCA has been instrumental in setting professional standards for the school counseling profession in Georgia. GSCA assists counselors in delivering more effective services by providing the means and information to enhance their skills, by supporting self-evaluation, and by conducting research to measure counselor effectiveness. Professional development programs and activities help maintain high standards and encourage quality performance. GSCA speaks for school counselors at the state and national levels through strong public relations and government relations programs and activities. GSCA members work in all educational settings from elementary through postsecondary education. Membership is open to those engaged in school counseling or related activities. GSCA and its members are committed to the continuing development of the school counseling profession. gaschoolcounselor.org

About the American School Counselors Association (ASCA): The American School Counselor Association (ASCA) is a nonprofit, 501(c)(3) professional organization based in Alexandria, Va. ASCA promotes student success by expanding the image and influence of school counseling through leadership, advocacy, collaboration and systemic change. ASCA helps school counselors guide their students toward academic achievement, career planning and social/emotional development to help today's students become tomorrow's productive, contributing members of society. Founded in 1952, ASCA has a network of 50 state and territory associations and a membership of more than 36,000 school counseling professionals.  schoolcounselor.org